Monnari
New e-commerce platform to streamline shopping process
Monnari is a Polish clothing brand with a 20-year tradition, created for women who appreciate elegance and timeless, feminine designs. A wide assortment of clothes, accessories and models from the Bags&Shoes line is available in 167 stores nationwide and in the emonnari.pl online store.
Assumptions
Our cooperation with Monnari has continued uninterrupted since 2016. During this time, we not only ran Google Ads campaigns, but also worked together to launch a new e-commerce platform. The new version was intended to make it easier to navigate the store, streamline the shopping process and best meet the needs of mobile devices, thereby improving online sales results. One of the main goals was also to increase the efficiency of order fulfilment by supporting processes designed from the beginning and introducing support for electronic invoices.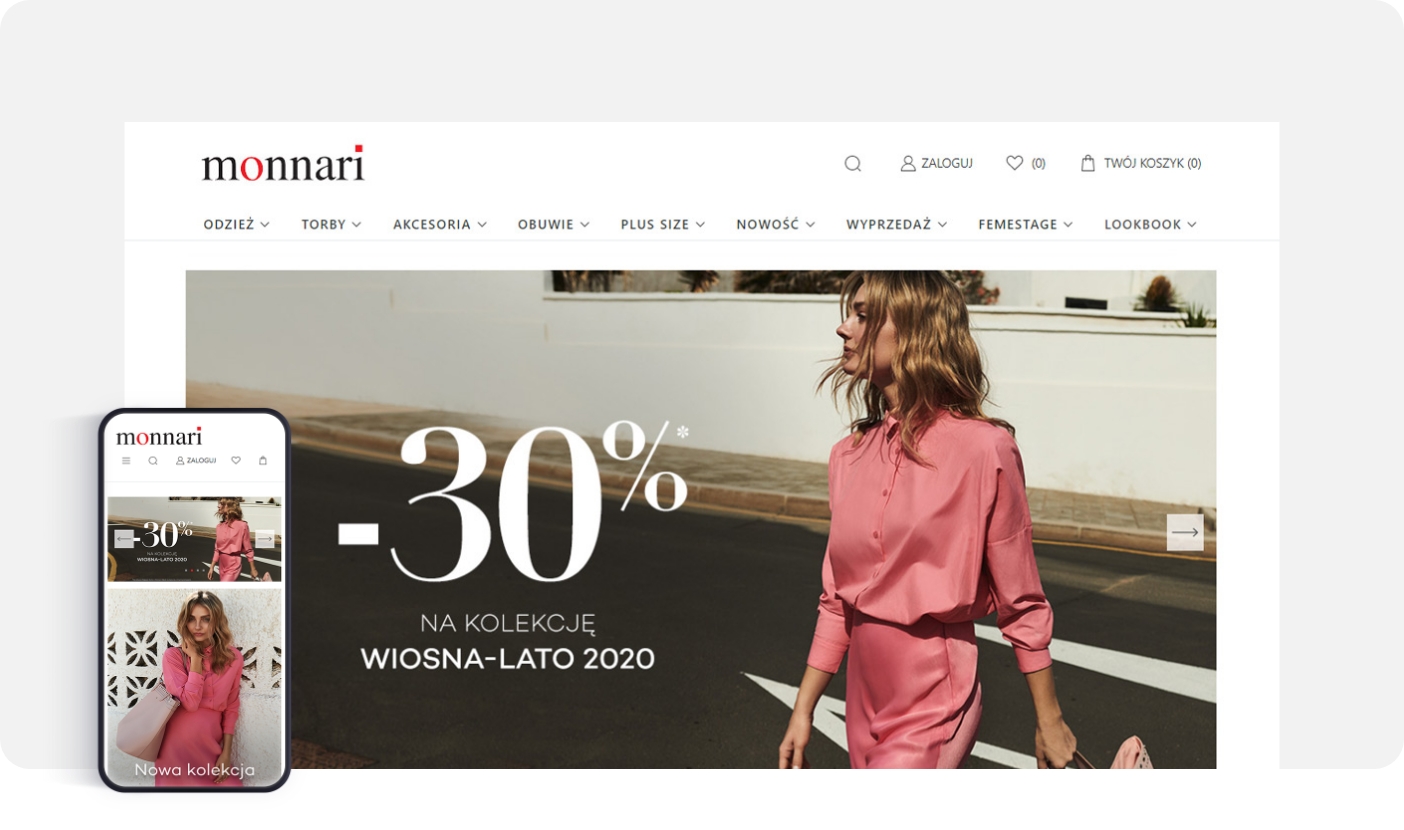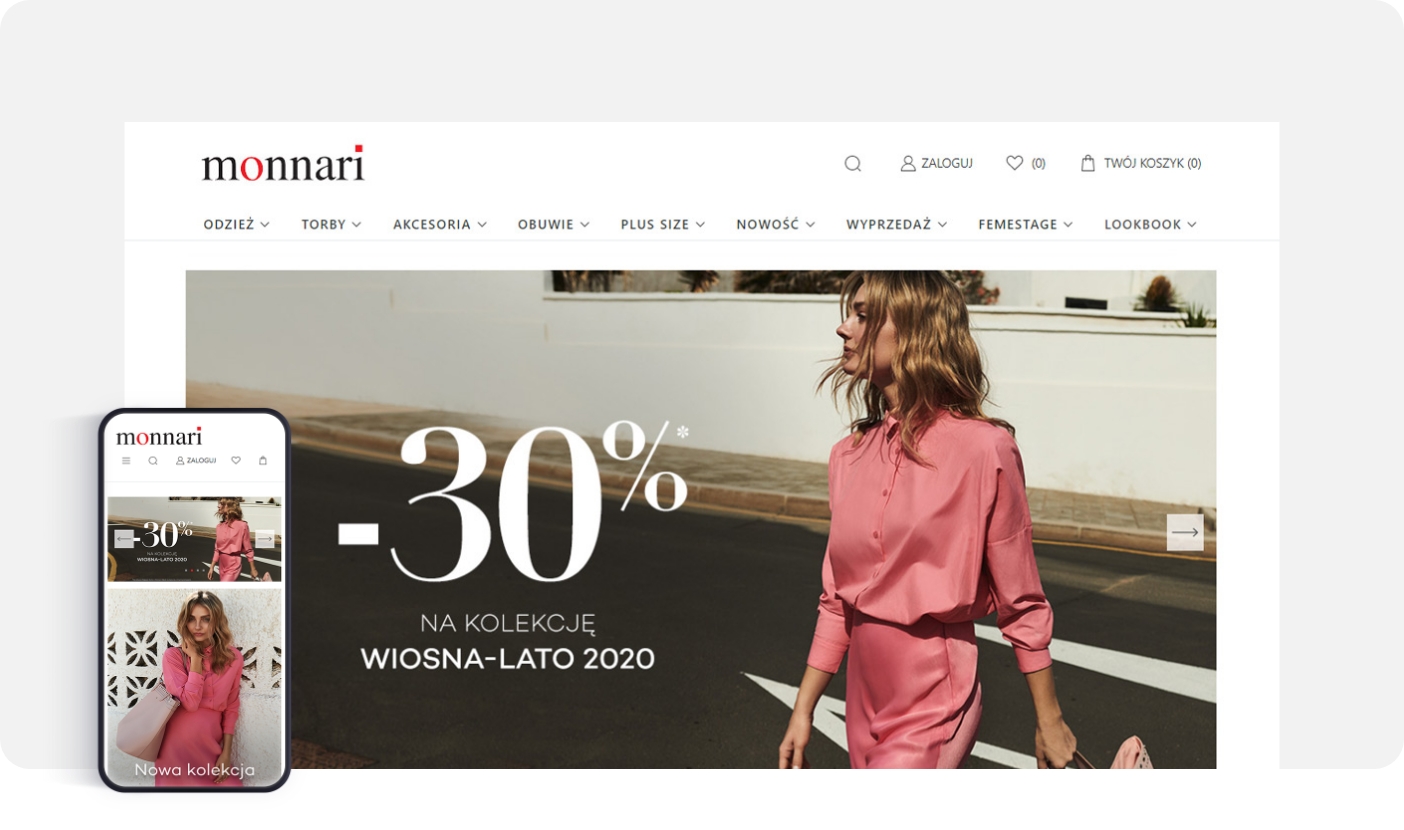 What we did?
Monnari's new e-store went public on July 9, 2018. In the refreshed version, we significantly improved the shopping experience of users by introducing, among other things, advanced filter support to make it easier to find the right product. We also modified advertising campaigns with the changes made. Thanks to a new division of categories in the store, we better matched keywords to landing pages and expanded the reach of ads on mobile devices.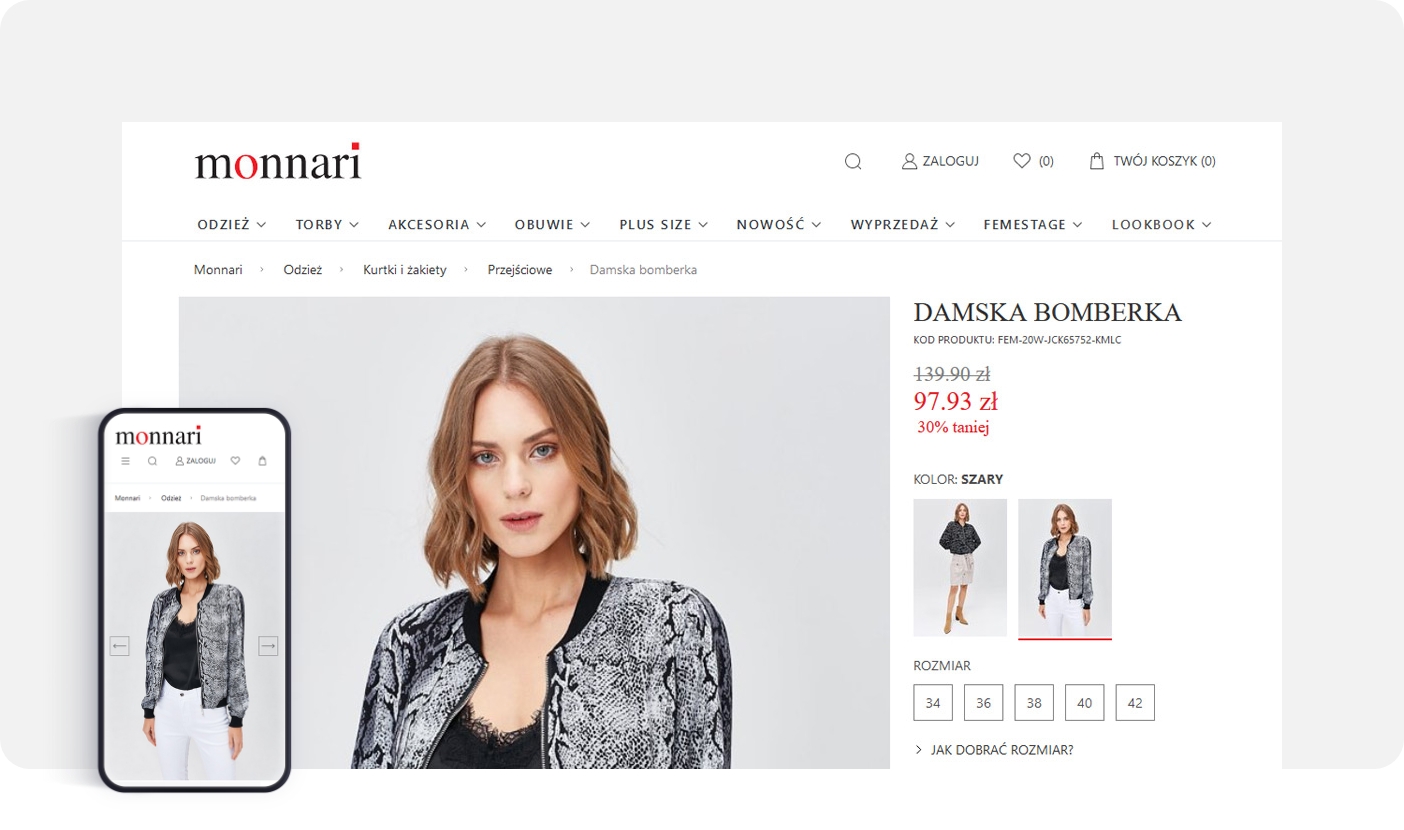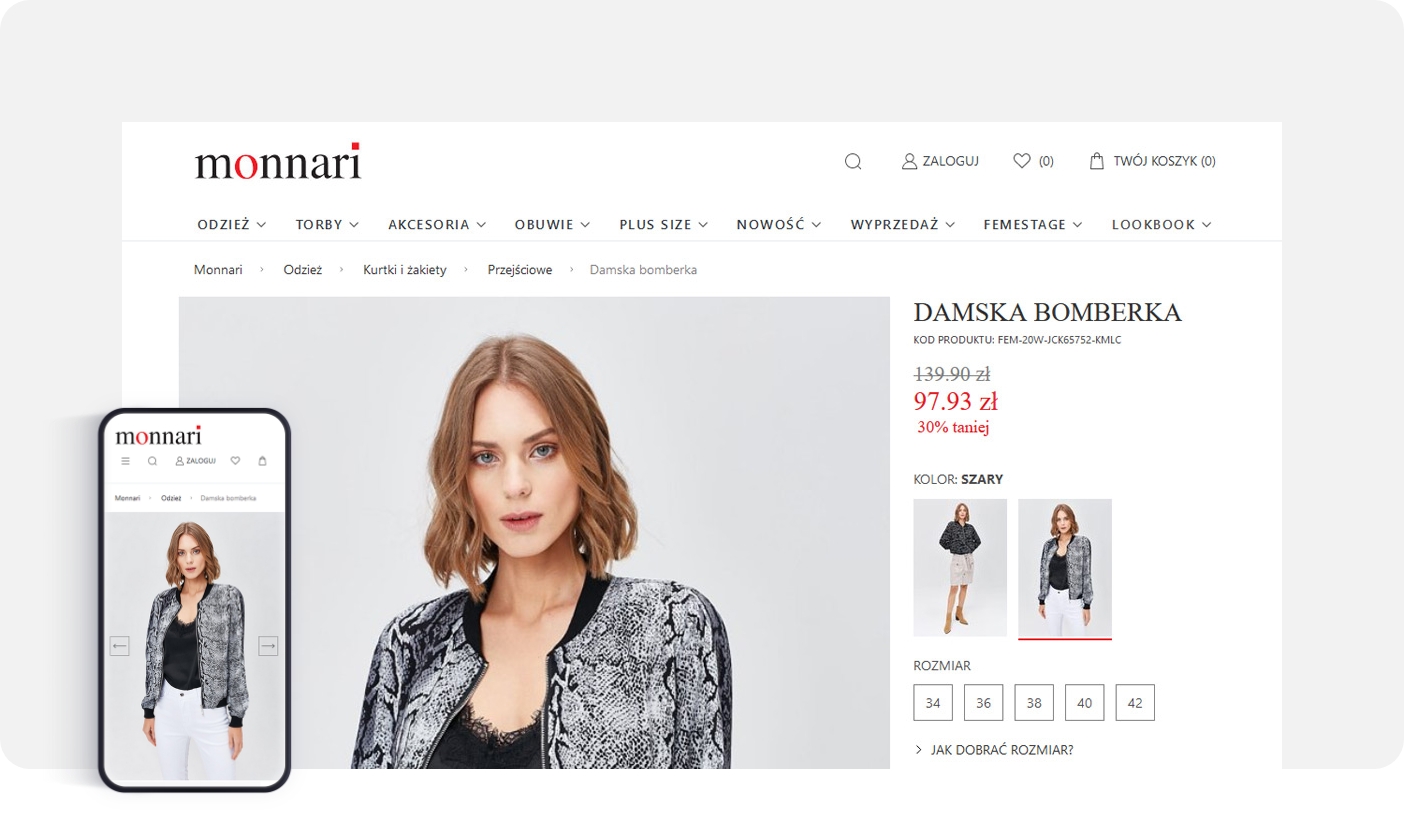 The e-commerce conversion rate increased by 58.2%, and thus the revenue of the entire store went up.
We compared the data for the same period in the current year and the year before. The new site significantly improved the store's sales performance. The e-commerce conversion rate increased by 58.2%, and thus the revenue of the entire store went up. We also reported an 18% drop in the rejection rate.
DATA FOR STORE IN TOTAL
18%
drop in rejection rate
58.2%
increase in e-commerce conversion rate
75.7%
revenue growth
The new e-store is tailored for mobile devices, bringing in new customers who prefer to shop using their phones. The refreshed site resulted in a 24.8% rise in the share of people using mobile devices, which translated into increased revenue for the store.
DATA FOR ADVERTISING CAMPAIGNS
14.5 %
drop in rejection rate
66.7%
increase in e-commerce conversion rate
170.4%
revenue growth
The change in the online store platform also had a significant impact on advertising campaigns. The new site structure caused the e-commerce conversion rate to increase by 66.7%, which basically means that it facilitated customers to complete transactions more efficiently after switching from sponsored content.
DATA FOR MOBILE DEVICES
90%
increase in e-commerce conversion rate
24.8%
increase in the share of users using mobile phones
125.4%
revenue growth
We've established an effective relationsip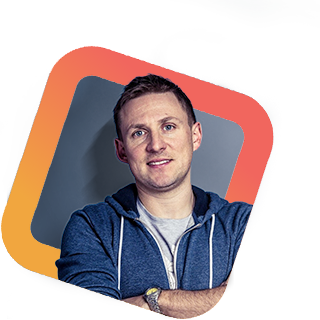 Jarosław Szot
Dyrektor ds. E-Commerce Monnari Trade S.A.
Grupa kapitałowa Monnari Trade S.A. już od roku 2016 współpracuje z Media4U w zakresie dostarczania rozwiązań e-commerce. Poza platformą sprzedażową dla naszych sklepów internetowych emonnari.pl oraz femestage.com nasza współpraca obejmuje również zaawansowane rozwiązania logistyczne, analityczne oraz integracyjne przy zachowaniu praktycznie 100% niezawodności działania systemów. Od początku współpracy pracujemy w modelu Continuous Improvement, wspólnie opracowując rozwiązania mające na celu wdrażanie rozwiązań nieustannie zwiększających wydajność, co z kolei bezpośrednio przekłada się na ciągły wzrost rentowności kanału e-commerce w Monnari. Kluczem do naszej udanej, wieloletniej współpracy jest stały, dedykowany i bardzo zaangażowany zespół specjalistów Media4U. Wspólnie dokładamy wszelkich starań, aby w pełni rozumieć realizowane projekty i ich wpływ na pozostałe procesy. Dzięki temu sprinty projektowe są tworzone i realizowane tak, aby jak najskuteczniej przekształcać pomysły w wymierną wartość. Mimo, iż współpraca z dostawcami technologii IT zawsze wymaga dużego doświadczenia i ze względu na swoją złożoność, często nie jest łatwa, to uważam Media4U za solidnego, długoterminowego dostawcę rozwiązań dla średnich i dużych projektów e-commerce.
| | |
| --- | --- |
| 18% | drop in rejection rate |
| 58.2% | increase in e-commerce conversion rate |
| 75,7% | revenue growth |