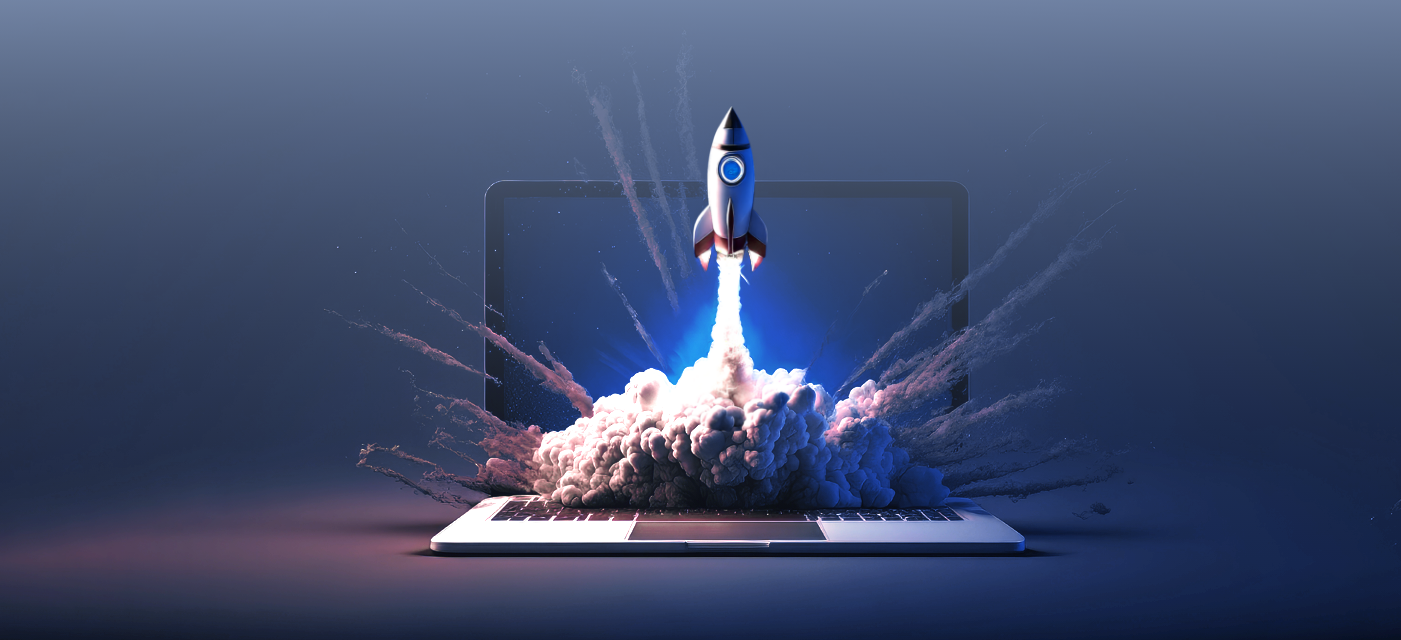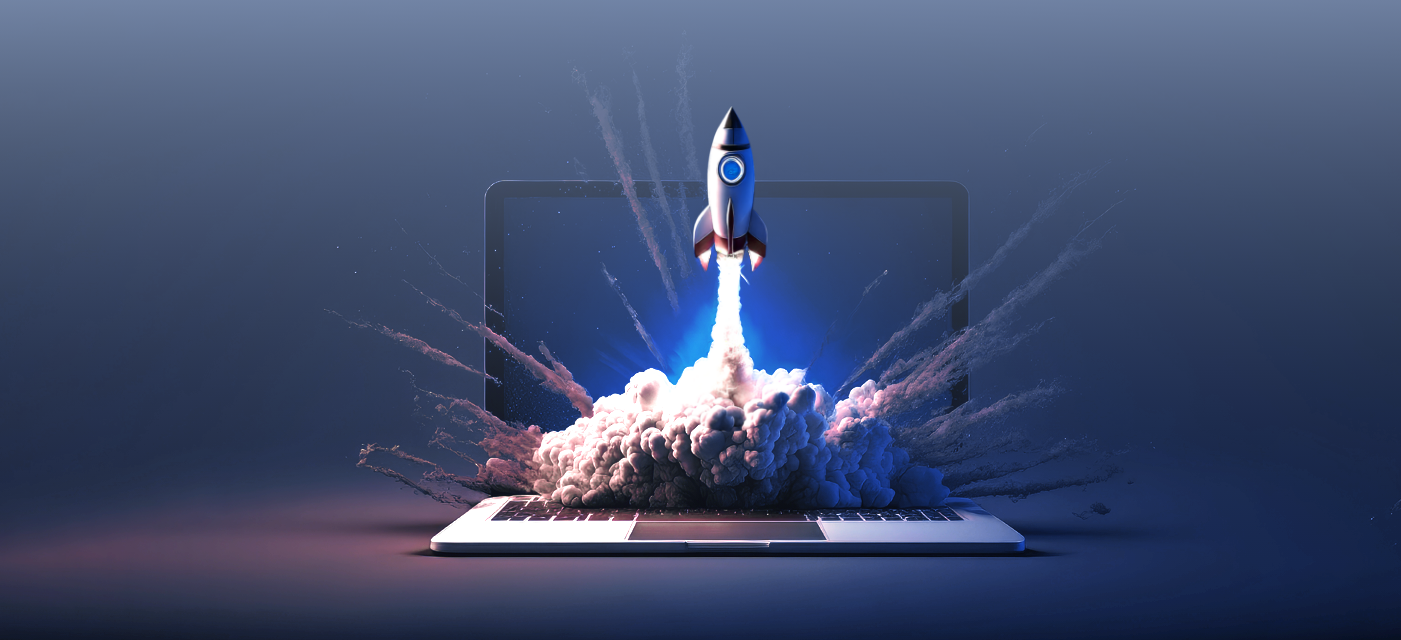 In today's world, where business activities have moved to the web, any e-store owner sooner or later will realize that if he wants to be successful, he must invest in online marketing.
And here the questions arise about what form of Internet marketing to choose. SEO, Google Ads, Facebook Ads, email marketing, content marketing, or maybe social marketing? What to choose? Or is it better to combine several activities at the same time?
In this article, we will focus on SEO and Google advertising. You will learn:
What are SEO and Google Ads activities?
What are the differences between them?
How SEO helps to grow Google advertising?
How Google advertising helps to grow SEO?
What is SEO?
Positioning is an action aimed at increasing the visibility of a website on the Internet by increasing its ranking in the search engine. High ranking in search results is key. Rarely will the user want to "scroll" a long list of proposed pages to the very end. That is why it is so important that your website is displayed as high as possible.
Many factors affect the ranking of a page in the search engine. First of all, it is worth paying attention to the technical aspects, i. e. responsiveness of the website, loading speed, or meta tags. Equally important is the link profile, which consists of all links redirecting to the page.
In the words of Bill Gates, we cannot forget the old rule "Content is King". SEO activities are based on content. That is why it is so important to have a well thought-out content on the website. When creating content, you should take care of properly formatted and search engine-friendly texts.
Remember that website positioning is not a one-time action! It is a constant work on the website, where regularity and consistency are important.
What is Google Ads?
Google Ads (formerly "Google Adwords") is an advertising platform that allows you to display ads in the search engine and on partner sites that are part of the Google AdSense program. Google Ads is based on a pay-per-click (PPC) model, which means that the advertiser only pays when a user clicks on an ad.
Campaigns are displayed based on keywords. When you type a query into a search engine and your keywords match the content of your ad, your ad may appear at the top or bottom of your search results.
An important element of the Google Ads campaign is the continuous analysis and optimization of the campaign. The Google Ads panel allows a rich analysis of campaign results, which allows you to evaluate, among other things, the effectiveness of your ad, the number and cost of conversions, or the number of clicks.
The above descriptions are just an introduction to what we can expect from SEO and Google advertising activities. However, already at this stage you can notice that there are similarities and differences between them. Deciding on a paid service, it is worth finding out what you can gain from it.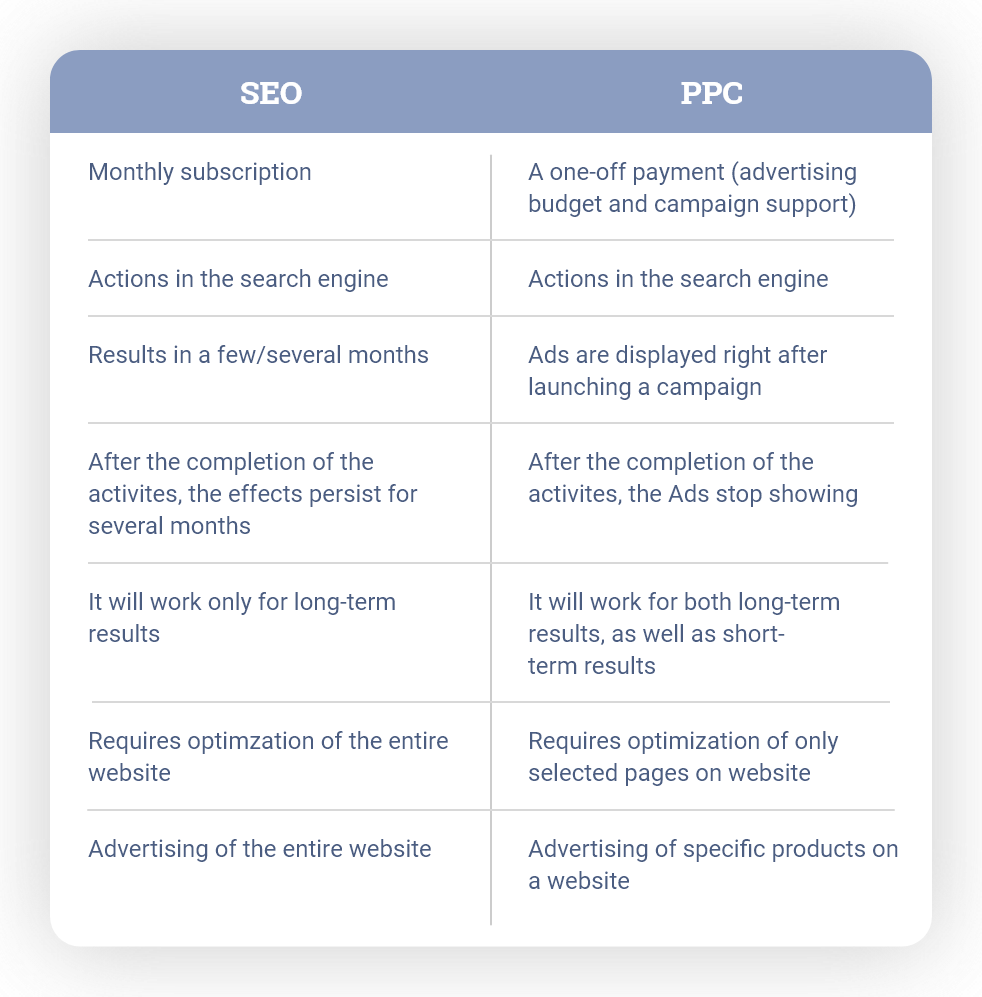 You already know what SEO and Google Ads are all about. You know their similarities and differences and you are aware of what each service gives you. So it's time for me to explain to you how these two services affect each other.
Why combine SEO with Google advertising?
Unfortunately, I will sadden those who were counting on the news that SEO directly affects the Google campaign. However, this does not change the fact that the use of both forms of marketing brings the best results. SEO and Google Ads activities complement each other in order to drive traffic to the website and increase its visibility. Therefore, it can be considered that positioning does not affect, but supports Google advertising, which translates into positive campaign results.
Below you will find examples of why you should combine SEO with a Google campaign.
Increased visibility of the site

Quite an obvious point, however, it is worth noting that the combination of SEO and PPC activities allows you to increase the visibility of the site in search results.
By choosing to use both services, you increase the chance of frequent visitors to your website.
Remarketing
If young parents read this, they certainly know that situation when looking at an interesting product, in a moment they heard their child crying, and after taking care of the toddler they did not remember which page they were viewing. At this point, remarketing comes to the rescue.
Thanks to remarketing activities, we can return to those "lost" customers who found us in organic results, but for some reason did not decide to buy. Using Google Ads remarketing will allow you to reach people who have already been interested in your product/service and resubmit your offer to them.
Domain Credibility
Thanks to high positions in the search engine, we increase the credibility of the domain in the eyes of customers. Nowadays, when we hear from every website about scams on the Internet, customers are afraid to buy from unfamiliar sites. If your website shows up high in search results and ads, you increase your authority in the eyes of the customer.
Display in multiple locations

Thanks to the combination of SEO and PPC activities, we have the ability to appear in many places. Keep in mind that SEO means not only higher search results, but also blogging, appearing on industry portals, forums. . . that is, in places where potential customers are present. On the other hand, Google Ads allows you to appear on Google partner sites or create campaigns on YouTube.
By increasing the space for displaying your website, you will reach more interested audiences.
See how we increased our client's sales by almost 50% with Performance Max advertising
Difference in effects
Starting with SEO activities, we already know that the results will not come immediately. That's when paid ads come to the rescue. While waiting for the results of positioning, it is worth investing in a Google campaign that will gain traffic to the page before SEO starts working.
Google Ads as an analytics tool

Due to the fact that we have to wait several months for the results of SEO activities, the introduction of any changes will not be visible within a week. Here with the help again come paid advertising. So it is worthwhile to seek knowledge about what a PPC campaign offers.
Thanks to the PPC campaign, we can check which phrases are worth positioning. We will find out which of them are not only popular, but actually sell. If a phrase generates a lot of traffic and therefore higher costs, but doesn't lead to conversions, it's worth considering positioning it or lowering its priority.
Summary
Combining SEO and PPC campaigns brings many benefits. First of all, it increases the visibility of the brand, which in turn results in more traffic on the website. Analyzing data from both sources allows you to better select the keywords that bring the best results. Finally, thanks to the synergy of both channels, it is possible to better understand customer preferences and behaviours. And that's what you care about most.